I am the Director and Teacher for two alternative education programs for the Charlevoix-Emmet Intermediate School District in northwestern Michigan. Our programs (Crooked Tree Center / Great Lakes Emmet) were created and designed to reach the students that for many different reasons have not been successful in a standard public school setting. The Crooked Tree Center is an "at will" independent study program where students may choose to attend. Great Lakes Emmet is a short-term or long-term suspension / Emmet County Probate Court referred program. I designed this program to meet the needs of the students who are suspended from their local school or who are currently involved with our legal system. Our students range in age from 15 to 19. We have students that are exceptional learners and students that have been identified as Special Needs (EI, LD, ODD, ADHD) and everything in-between. I have been here for eight years as a teacher and three as director.

I attended Berklee College of Music from 1987 to 1989, and then transferred to Olivet College in 1991. I graduated from Olivet College in 1995 with a BME, but I was drawn to educational opportunities engaging "youth-at-risk" so I began working at Starr Commonwealth Schools in Albion, MI. Starr is a medium to maximum-security residential treatment facility. I worked for 2 ½ years as a Youth Specialist with 14 to 18 year old adjudicated Sexual Offenders from all over the state. My role at Starr was very much about teaching, but it was not limited to academic subjects. We were required to work with our students in all areas of their life; predominantly we provided them with treatment specific to their sexual offending. After leaving Starr, I worked as a Families First Worker (Social Worker) for Lutheran Child and Family Service. This was another exceptional learning opportunity for me. LCFS provided me with more training that seemed to go hand in hand with my previous education and then beyond. I was provided with an opportunity to continue teaching and not only with students, but with entire families and in their own environment. Being able to design, and implement
alternative education programs has allowed me to bring my educational experiences full circle.

I am married to the woman that I started dating when we were both 15 years old, we have one 7-year-old daughter and a 2-year-old son. We are also fortunate to have two 12-year-old 20lb. Burmese cats and one very energetic German Short-haired Pointer. I am blessed because they all provide me with constant affection, inspiration and support. As a dedicated professional musician, I love music. My other interests are sailing, hunting, reading and hockey.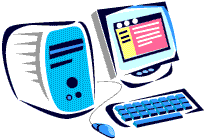 My Community Links

Charlevoix Emmet Intermediate School District
Self Reflection Computer Education Specialization
With the escalating demands placed on our society by the advent of new technologies, I believe that as an educator it would be reckless at worst and limiting at best to ingore all of the potential possibilities that educational technologies offer us as professionals.
As few as ten years ago, I was still using an electronic typewriter in my undergraduate classes. My reasoning was simple.

In high school I had been turned off to technology.

The reasons are varied, personal and complex.

Nonetheless, the effects were strong enough to keep me away from word processors until my education career provided me a second opportunity with technology.

This time, I was provided several very important items and opportunities that ignited a fire in me that burns strongly to this day.

In 1998, I was provided a laptop computer, an Internet account to the World-Wide-Web, and more importantly the opportunity through staff development to learn how to maximize my use of the software included with this wonderful tool.

Over the past eight years, I have glimpsed the unbelievable opportunities that are available to any educator who chooses to grab the reigns and invest themselves in the integration of technology into their curriculum.

I have witnessed first hand the impact it has on students and learning in today's classrooms.

The value of computer education as a specialization lies in its ability to be spread across the curriculum in any subject, any grade and as creative as the will of the educator who invests in it.

The necessity of our students to be proficient in the use of real world technologies and to have actual life experiences in working with technology of today and tomorrow demand that every teacher to learn to harness, incorporate and integrate technology across the curriculum.

I believe that by learning to use and integrate technology into my curriculum, I have opened the door to brighter tomorrows for my students, and for me, this is just the beginning to bigger and better things that lie ahead.